2005.02.12
Cooking Thai
cooking-thai-04
Originally uploaded by natekoechley.
On Thursday night, Aimee invited a bunch of her friends over for dinner. The dinner was multi-purpose: celebrating her that-day completion of the last application to grad school; a housewarming party for her friends who hadn't seen our home; and a going away party, as she's leaving Monday night for about a month in South East Asia.
Posted by Nate Koechley on February 12, 2005 at 01:06 PM in Events, Food, Location: San Francisco, My life..., Travel [1] | Permalink | Comments (0) | TrackBack
2005.01.02
Deepest Reef
The "deepest coral reef in the United States" is being reported by the United States Geological Survey (USGS). This find is noteworthy because it "appears to be thriving on 1-2% (5-30 microEinsteins/1m2/sec) of the available surface light (PAR) and about 5% of the light typically available to shallow-water reefs". The coral has adapted to it's environment, growing horizontally instead of vertically to maximize it's light-collecting surface area. While "hazardous to shipping" to part of the maritime definition, concludes that "Nevertheless, from the scientific perspective of a structure built from hermatypic corals, southern Pulley Ridge may well be the deepest coral reef in the United States."
I spent Christmas snorkeling in Culebra Island, Puerto Rico, so I still have a serious crush on reels and coral.
Posted by Nate Koechley on January 2, 2005 at 11:51 PM in My life..., Other, Travel [1] | Permalink | Comments (0) | TrackBack
2004.10.02
Hong Kong!
I'm flying to Hong Kong tonight. I'm excited. Expect fewer posts the 7 days I'm away.
Posted by Nate Koechley on October 2, 2004 at 01:17 PM in My life..., Travel [1] | Permalink | Comments (0) | TrackBack
2004.09.28
Speakeasy Dining
I've been asking around for Hong Kong advice lately, as I'll be spending the next two weekends there (working during the week). One of the more interesting things I've found is the concept of Home Kitchens, or "speakeasy" restaurants.
...the intimate eating places that have sprung up in people's homes and have become, for locals and those in the know, some of the best places to eat on the island. The speakeasies started several years ago when some Hong Kongese, gastronomes and cooks with limited means, decided to set up one or two tables in their sitting rooms and offer a fixed-price, multicourse menu of distinctive home-style dishes.
This New York Times article describes and recommends, and has some great photos.
Mouth watering already...
Posted by Nate Koechley on September 28, 2004 at 11:11 PM in Food, Travel [1] | Permalink | Comments (2) | TrackBack
2004.07.08
Hillman on Canal Street - A Certain Type of Penetration
I was in NYC over the Fourth of July weekend. Hopping off the from-Brooklyn subway, I popped onto Canal Street looking for some mix tapes. They have all the bootleg software booths too, and as I paused to look at one at one of the displays, I saw my coworkers face staring back at me for a book cover.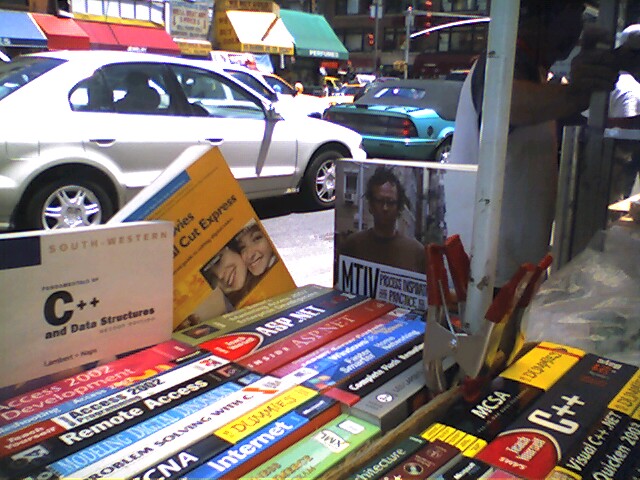 I guess that when your book makes it to the carts on Canal Street you've penetrated pop culture to a special degree.
As previously noted, I'm working on a project with Hillman Curtis, who's book it is.
Posted by Nate Koechley on July 8, 2004 at 10:08 AM in Design, Location: New York City, My life..., Travel [1] | Permalink | Comments (0) | TrackBack
2004.04.06
Plans for Italy
After going to the CHI Conference in Vienna in a few weeks, Aimee and I will be extending our trip a week, spending the time in Italy. The plan is to spend a few days in Florence, a night in the Tuscany countryside, and then 3 days in rome.
To keep it in one place, I've posted all the relevant information below:
Florence:
Bellevue House

(review)
Tuscany:
La Crociona
(Review and another review)
Rome:
Lancelot Hotel
(Review, another)
Overall info:
Planning Info & Instructions for visitors, including language stuff (phrases and words)
---
Anybody have suggestions or input? Would love to learn even more local and must-see things to do.
(btw, I have a wonderful partner-in-crime who compiled this great plan and thorough research!)
Posted by Nate Koechley on April 6, 2004 at 03:20 PM in Travel [1] | Permalink | Comments (0) | TrackBack